Do you know that feeling when your packing your suitcase? You don't want to bring to much clothes. Arriving at your destination, you discover that those extra t-shirts and your 3rd bikini weren't really necessary.
In this blog, I will tell you more about my travel gear. My luggage is normally full of equipment. During my travels, I also work for clients, so I have to bring a lot of stuff.
What is in my suitcase?

For my worldtrip I bought the  DJI Mavic Pro. An amazing small drone which makes your video's more special. Even mine Canon Mark 3 is almost 2 kilos including lens, I will always bring this beast. This Canon camera works the best for portraits and takes the best pictures in low light situations. And it can take a punch. Pretty important when your traveling in bumpy roads.
What else did I packed?
Go Pro Hero 4
Harddrive
Macbook
Nissin Flash
Powerbank
Rode Mic
Canon 70-200 mm lens
Chargers, memory cards and batteries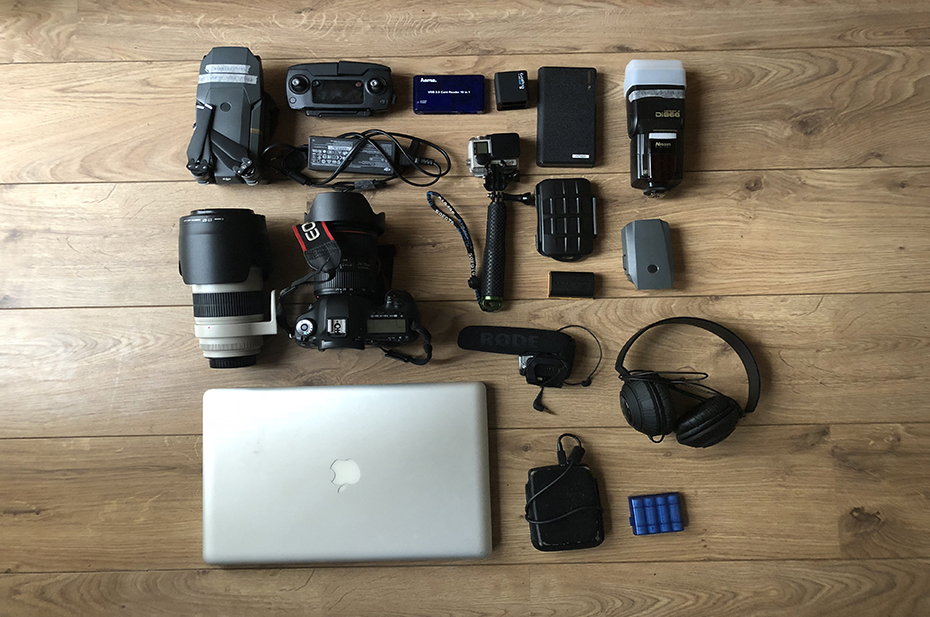 DJI osmo as vlogcamera?
I thought a long time about buying a vlog camera. I'm more a filmmaker than a vlogger, so I decided to order the DJI Osmo. It's not made as a vlogcamera, but you can make some cool stabilized shots with this camera. I had to expand it with a lot of accessories to get some normal audio. After seven weeks the camera already broked. I couldn't really regret it. This camera works to slow for me. You cannot film the spontaneous actions. So if you have enough time to set up the camera,  you really can make some nice footage.
For my next trip to Cameroon, I decided to vlog with my iPhone 8 and the Zhiyun Z1 Smooth Q Gimball. If you have any questions or tips, please contact me.